Sailing with Ahoi-Charter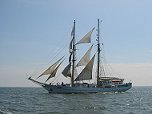 Sailing has already been your dream? Are you a skilled sailor or a beginner? Ahoi-Charter, your expert for boat rental and sailing, offers you many sailboats and sailing yachts worldwide. It does not matter in which area you want to sail, if in Croatia, on the Baltic Sea or in the Netherlands, Ahoi-Charter has the right boat for any taste. Have trust in our experience and enjoy your sailing vacation.

Ahoi-Charter also helps you with the plannig of bigger events and incentives.


Sailing in following water areas
Sailboats in the most beautiful water areas of the world at Ahoi-Charter. We offer well-kept sailing yachts in different areas. If you are interested we help you with tho choice of the right sailing yacht. Use our large offer! With sailboats of Ahoi-Charter you can enjoy your sailing holiday.


Sailing in following countries
Rent one of the numerous sailboats from Ahoi-Charter for your sailing vacation. The sailing yachts are offered in many countries of the world. The boats are in top state. There are both cheap and exclusive sailboats in our offer. Find your dream boat for your sailing trip here.


Top