Luxury yacht charter - yachts for rent on Ahoi-Charter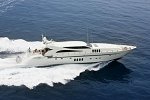 Are you looking for a luxury yacht, on which you would like to spend your yachting holiday? Are you planning to spend the loveliest time of the year on a luxury mega yacht? Ahoi-Charter, your expert in luxury charter and exclusive charter, arranges the right super yacht with all comfort for your boating trip. Let you advise by our team.

Ahoi-Charter also helps you with the plannig of bigger boat events and incentives.


Luxury yachts - rent in following water areas
Do you want to rent luxury yachts in the Adria or mega yachts on the Riviera? Charter your super yacht with Ahoi-Charter, your expert for luxury yacht charter! We arrange comfortable motor yachts and sailing yachts - exclusive but for all that for a good price.


Luxury yachts - rent in following countries
Would you like to book a luxury motor yacht in Croatia or an exclusive sailing yacht in Italy? Ahoi-Charter arranges mega yachts and luxury yachts worldwide. Our super yachts offer all comfort and exclusivity for a good price. High quality of the yachts is very important for us - so you can enjoy your luxury holiday.


Top